Google alerts vs. Newspoint – similarities and differencies
Google Alerts and Newspoint are tools that allow you to monitor the mention of a brand, company or person in the media. Monitoring trends in the industry, the activity of competitors and feedback on realised projects provide valuable information for many business areas. Where do you get them? How to choose an effective and functional tool? What are the differences and similarities between Google Alerts and Newspoint?
GOOGLE ALERTS
Google Alerts is a free tool offered by Google Search. To use this option, you need to set https://www.google.pl/alerts notifications for selected keywords to be sent to your email address. You can adjust the frequency of warnings to your liking. We may personalize the notifications we receive in a number of ways.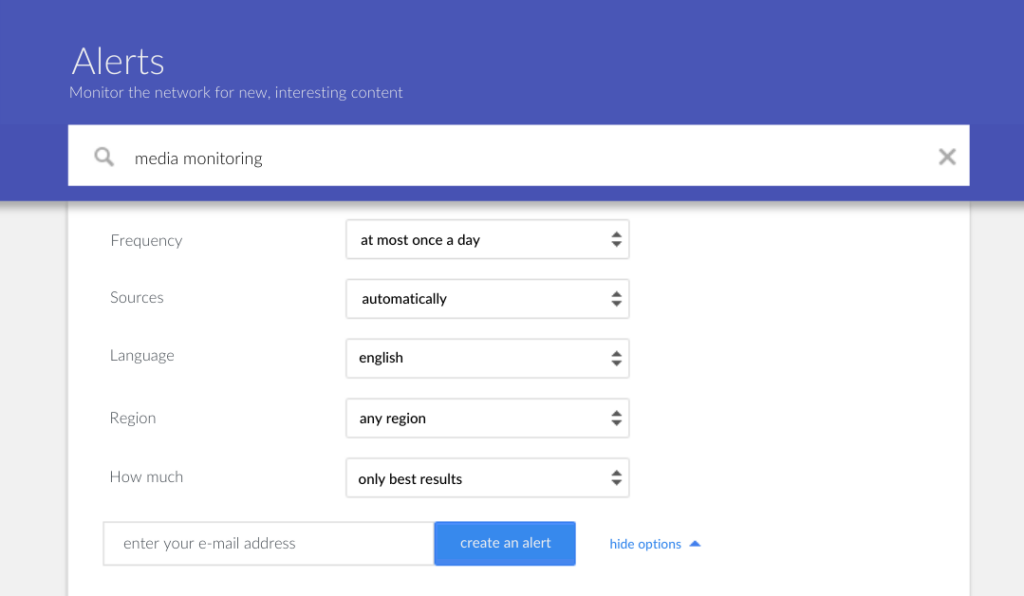 The first of the customizable parameters in Google Alerts is the frequency of notifications. We have several options to choose from. We can set notifications of new posts to be sent up-to-date, once a day or weekly. Notifications you receive include only notifications of new mentions that have been published since the alert was created.
Another parameter is the sources. When using Google Alerts, we skip the daily search queries in Google Search. Notifications of new entries are displayed in the alert we set. The feature is only valid for Google search. You can choose from news, blogs, websites, videos, books, discussions and finances. Google Alerts covers basic sources, so we don't receive notifications from the press, TV or radio. Despite the development of the internet, social media and their use in almost all functional areas, traditional media still influence public opinion. The omission of this data creates a large monitoring gap, i.e. an incomplete, selective picture.
In addition, the lack of social media monitoring is a major constraint. Opinions about a company or a particular campaign can be found in forums and blogs, but increasingly on social networks. That's why social media monitoring is so desirable. According to Researchscape International's Customer Experience Benchmark report, this is an important factor in the satisfaction of PR executives.
Current trends are towards the synthesis and consolidation of information. Recipients expect concrete, essential information, which is often presented as a graphic or video. Portals such as Facebook, Twitter, Instagram, Pinterest and TikTok are increasingly meeting this demand. Their monitoring seems essential if the business activity, development and image of the company is to be comprehensively maintained.
Other options include selecting the languages in which the texts are to be searched and the regions from which the published information is of interest to us. We can also limit our preferences to the number of expected results in order to get all or only the most important mentions. The alerts are sent to the e-mail addresses provided.
Google Alerts does not provide analysis of the results. This is a service where only new mentions are reported in selected sources. We receive all information in separate e-mails. Collecting data in a single file, organizing it, summarizing it and comparing it over time has to be done manually. This is a very time-consuming solution.
Google Alerts does not allow you to import data into a single file or automatically create a summary report. It is also very important that changes can be compared over certain time intervals. The perception of our brand or company varies over time and depends on many factors. It is important to know how the upcoming campaigns will affect our image. The use of Google Alerts is not sufficient to learn this data. It is also not enough to query more complex and exclude words and phrases. The results achieved are unsatisfactory and very limited. A major disadvantage is the lack of ability to use Boolean operators, which are needed when searching for multithreaded words.
NEWSPOINT
Newspoint monitoring allows you to monitor not only websites, but also social media, press, TV and radio. The offer includes monitoring of podcasts, reviews, internet forums, and recently even TikToka and Vkontakte! By choosing the highest package from the offer, you can get access to the press, radio and television – including full-text versions. It is a comprehensive access to all key media in Poland and abroad.
The effectiveness of media monitoring depends on the best possible selection of keywords. In Newspoint, the planned projects are not limited by the number of keywords. It is often difficult to limit the references you are looking for to a single word or phrase. Newspoint allows the exact setting of the parameters of the information sought. In addition, you can observe several related phrases within a project. It all depends on your preferences. A very important feature is the advanced search and words. This allows you to reach all relevant mentions. The functionality allows you to better tailor the monitoring to your needs, e.g. by excluding certain words, pages or press titles that you are not interested in.
Newspoint supports you with an experienced team, that can advise you or professionally set up media monitoring enquiries tailored to your needs. There is constant access to the advisors – inquiries and requests can be sent via e-mail (kontakt@newspoint.pl) or chat.
The result of well-targeted media monitoring is publication statistics that you can analyse, draw conclusions and use accordingly for your summary reports. 
In the Newspoint dashboard, you have access to charts with different data, such as: reach, most popular publication sources, background (sentiment) of the releases, breakdown by country of origin, influencer statistics – the most popular, most valuable, etc., likes, comments, reactions, and times and days of release. 
The Newspoint panel lets you filter the results to make the statistics as clear and structured as possible for the user. You can choose any date range, sources, sound, reach or advertising equivalent, among other things. The ability to filter or sort publications can help you prepare reports and presentations efficiently.
Adding tags (labels) to the publication is also beneficial to facilitate collection and subsequent return to important publications. The tags are optional and can contain freely selectable phrases, e.g. about an event you are hosting or rating your product. Use this feature to better organize your collected publications about your brand or company. 
Access to the publication archive is an important aspect. This gives you the opportunity to compare, collect and create summary reports over time. Newspoint offers data from more than 10 years.
Media monitoring tools can send you notifications of new mentions in the media. With Newspoint, you can tailor the warning to your needs as much as possible – you can tailor the notification frequency, the time you want to receive a notification, or even the notification to your brand's corporate identity. In addition, you can choose whether you want to receive a short or full version of each publication. 
Another important feature is the ability to produce reports based on available statistics. You can download reports from Newspoint in the format most convenient for you (.csv, .xls, .pdf, .doc). This will allow even better use of the available data. The panel does not limit the number of downloads or the length of such reports.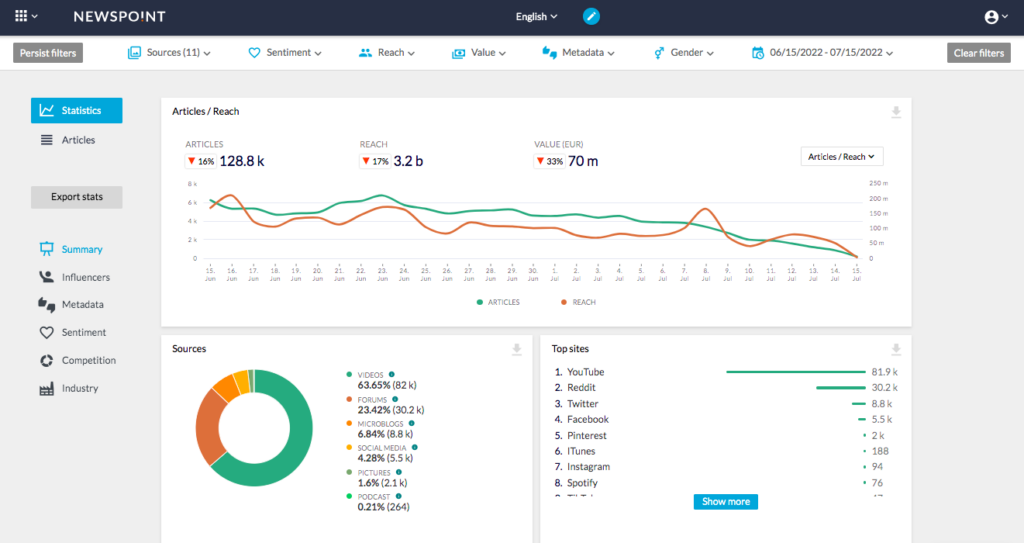 Newspoint offers media monitoring in 75 languages. If you have an international brand, you can rely on a panel that searches for publications about your company from (almost) all over the world. If you're looking for a larger company, the Newspoint Panel can help you assess the effectiveness of your activities.
The competition module can be used in a variety of ways. Comparing the brand business with the competition is only one option. The tool makes it possible to compare different designs and products of the brand and to evaluate their media impact and the effectiveness of the advertising campaigns carried out. With ongoing feedback, you can quickly change your strategy and manage your budget and advertising plans more effectively. 
Social media monitoring is a great advantage of the panel. It is important that the use of the data of the social media platforms is carried out in accordance with their terms of use, so that Facebook only collects the fan page and Instagram only the business profiles. To speed up the collection of these publications, you can link the Newspoint panel to your brand's business profile. If you have any problems, a dedicated team will be happy to help you select the available options.
New at Newspoint is the Influencer Search Module. This allows you to search for the creators who have the best contact with your target group and match your marketing assumptions. The choice of influencers also depends on how they work: the platforms they use and on which you want to be known, the reach of their publications, or the topic of their posts. This module will definitely be useful if you are looking for the best influencers for your brand.
SUMMARY OF GOOGLE ALERT AND NEWSPOINT COMPARISION
In summary, the settings in both tools can be edited at any time. The first step is to find out what we want to monitor, how long, to what extent and how far we want to go. Which tool is worth using? Newspoint allows for a much wider range of analytics, allowing for more accurate and personalized monitoring. Google Alerts is a very slimmed-down version with a small number of sources. 
Are you curious about how the Newspoint panel works in practice? Try it free for 7 days. None of the packages satisfactory for you? Write to us. We tailor the monitoring to your standards and adapt it to your business objectives. An important factor is the optimization of time. Better information retrieval, faster analysis, and easy reporting save time that you can use to create more business plans.
---
---