When does reflex matter? Real Time Marketing (RTM)
Currently, it is not enough to appear on the market with products or services. It is a must to be online, practically non-stop. A fanpage and paid advertisements do their job, but it is also necessary to monitor the activity of the environment on an ongoing basis – customers, competition, current trends and events. The speed of reaction to entries, teasers and comments determines the visibility and definitely affects, among others, on the image of the company.
One of the options for effective communication is real-time marketing. What is this? What is it about? How to implement it?
Real-time marketing (RTM) is a marketing tactic based on a quick response to current events. The essence will not be the theme of the action or event, but an effective reaction linking the current event with our product or service. The inspiration to use RTM tactics can be sports, political, cultural events, game premieres, the latest episode of a popular series, cinema premiere, new trends or unexpected incidents or events from the country and the world. Every situation that echoes loudly can be used as an inspiration for real-time marketing.
Real time marketing – how to do it right?
Speed of action
The faster the reaction to the event, the greater the chance that Internet users will pick up on the topic. What's more, it is also a greater chance that we will not be overtaken by competitors in the industry. A creative idea will be effective if it is unique, but also first on the market. Sharing entries that are very similar to those just uploaded by the competition will not have a good effect, and in the worst case will be negatively commented.
It can be difficult to keep track of social media and portals to catch events quickly. Especially because of the amount of information. It is worth automating monitoring using dedicated tools. One of the solutions is the Newspoint tool.
Element of surprise
RTM is based on unexpected situations. A plus for us if we can refer to the event in a joking and "since-neighbour" way. Nothing trivial will gain as much attention as generating a new idea that takes advantage of the current situation. If it attracts the attention of Internet users, it means it's good. In the 21st century, recipients constantly need new impulses – more entertainment, quickly available information and lack of monotony.
The viral effect
A good real-time marketing campaign is surprising, funny and, above all, extremely creative. With the current flood of information, only those entries that stand out from the rest stand out. This is what you should strive for. The more the post is liked by the recipients, the greater the effects and reach will be achieved at a low cost. It's all thanks to the immediate sharing of publications by subsequent users. By combining entertainment, news and the use of our brand, products or services, a mechanism is created that shapes the company's image in the minds of users.
Meet the recipient's expectations
When choosing a topic, you must also take into account the language of communication, appropriate for our target group, and the expectations of the recipients, i.e. the appropriate level of humor. What will entertain the younger generations may not necessarily appeal to their parents or grandparents. At the same time, there are intergenerational events that resonate regardless of age, interests and views.
The interest of Internet users is perfectly visible in the recording of Mata, but also in the transfer of Robert Lewandowski to Barcelona. Immediately after these events, we checked how much they resounded on Twitter.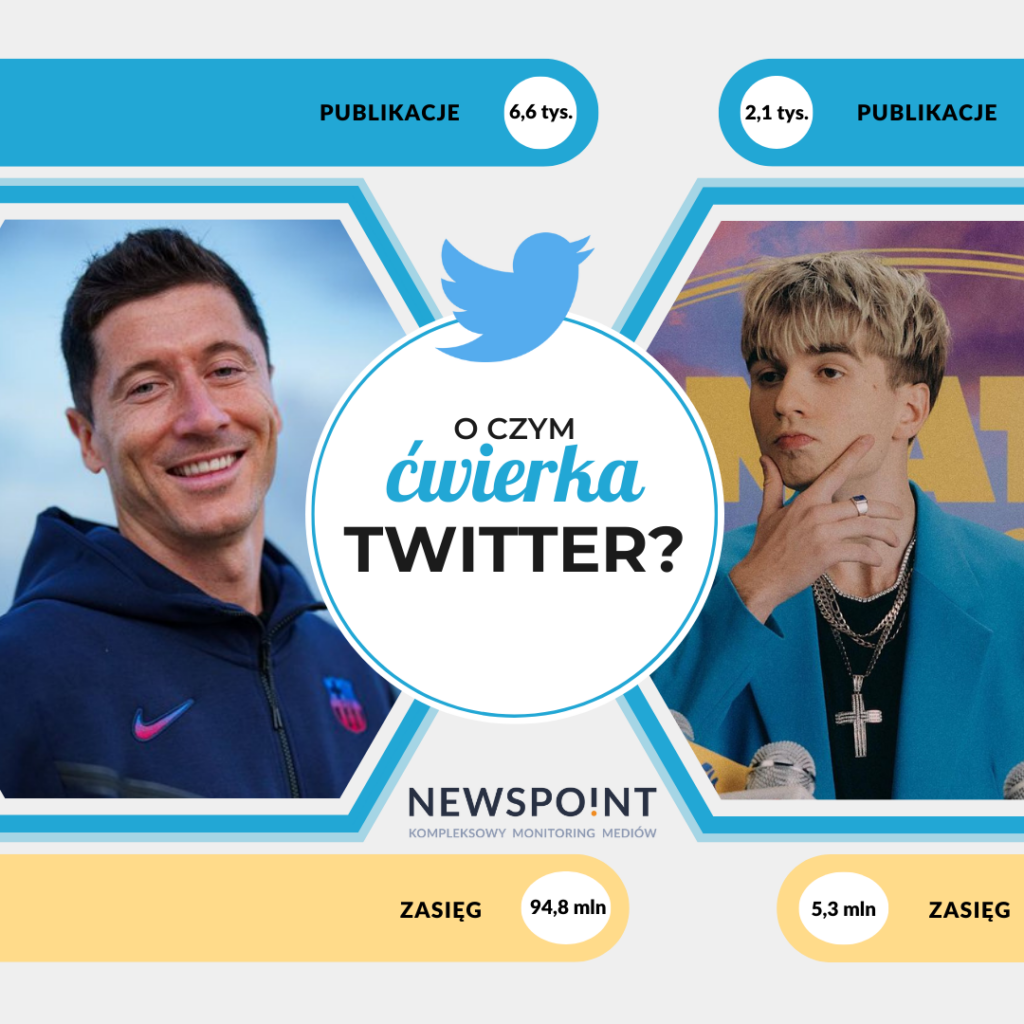 Clear references
For an entry to be effective and evoke the right emotions, it must be understandable. The simplest forms work best. The recipe will be minimalism: economy of words and simplified graphics. Reaction time counts. In understanding the message, hashtags referring to the event that inspired us can help. All markings will also allow you to increase the reach, thanks to which recipients will find your post even without knowing the company or brand. In the case of the aforementioned recording of Mata, tagging the rapper in the entry definitely increases the audience, which we also observed on our entry.
Promoting our brand, service or product
A funny reference to an event from a few hours ago is not everything. Real-time marketing involves the promotion of our products or services. These are not just another new meme – RTM aims to strengthen the brand and its awareness. If we operate in a given industry, events related to it should primarily be used as inspiration for publication. If we are developing in the cosmetics industry, references to Formula 1 may not be understandable to our potential customers. The entry must be clear and legible. Otherwise, the actions will be in vain, and the fast will cause some disgust. What's more, the lack of consistency between our messages and the adopted strategy may discourage you from using the services or purchasing products of a given company.
Rogers That Foods easily found a way to use the presidential election announced by Mata in 2040 to promote its products.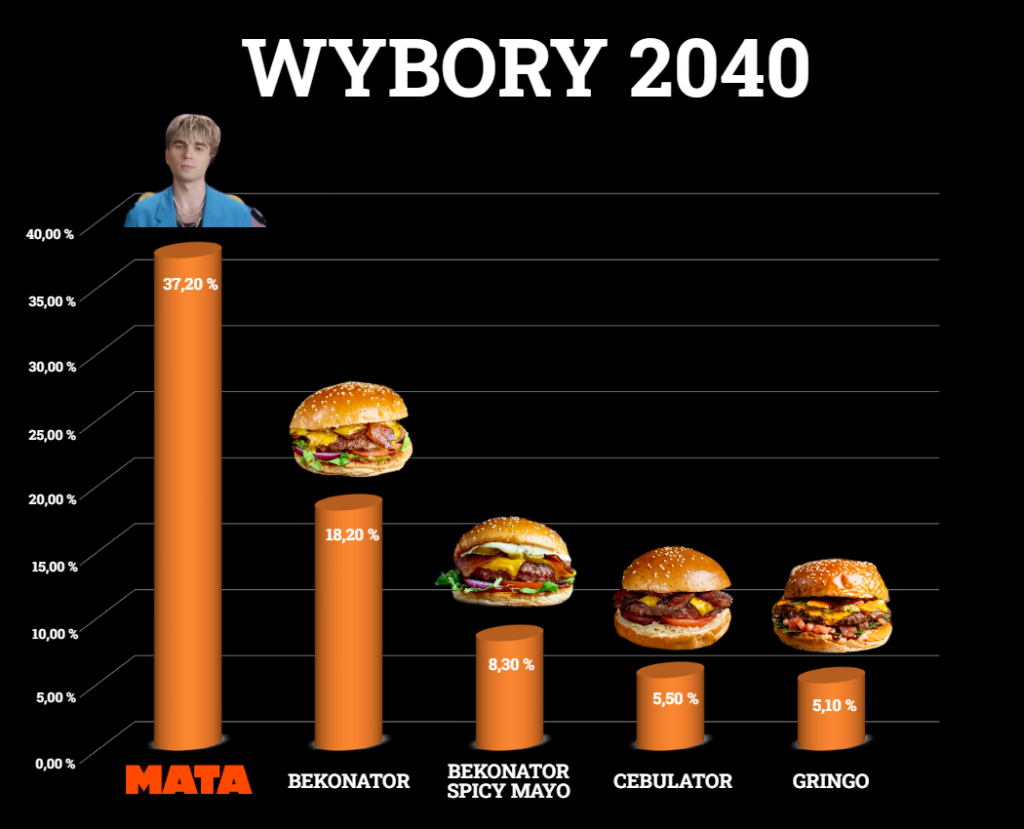 RTM will be helpful to reach the consumer, individual user. This is a tactic that works well in B2C contacts.
What to avoid? What to watch out for? What to look for?
Time
Reflex counts. Each subsequent hour may cause the loss of humorous value and the replacement of the topic with other events. Emotions will subside and we can expose ourselves to critical comments and our actions will turn out to be ineffective.
An entry referring to events from a few days ago is not real-time marketing. The reaction must be quick. Even if your post is hyper-polished after a few days, it will go unnoticed, unfunny, boring, and counterproductive after that time.
Topic
RTM requires a moderate approach. Not every theme will be suitable for use. Real time marketing topics are unlikely to include annual Christmas events, expected events and situations that we expect. However, there may be exceptions! At such meetings, there are also unexpected moments that may already be the basis of our publication. Thus, we can plan initial entries at the beginning. Follow the calendar of important sports events, the World Cup or the French Open, the expected film premieres or important industry events. A moment earlier, collect ideas for possible references to your products or services. The subsequent selection of one of the prepared options will happen by itself (e.g. winning or losing the Polish team). Get ready and expect! Sooner or later something will happen.
The topic of the post is key. Controversial, emotional situations can be risky. You have to be modest and meet the tastes of the audience. Political undertones should be avoided. They carry a high risk, and in the case of hate, they can exclude the company from the market. At the same time, this does not mean a complete avoidance of all political topics. As with everything, you have to find the golden mean.
Niche topics will also be difficult to tackle and rarely commented on in the country or our region. Perhaps they will be well received in other parts of the world, but if we do not have our recipients and clients there, it is better to look for another topic or wait a few days. News to Poland may be delayed by a few hours or even a few days. If we post entries too early, our effort will be in vain and the publication will go unnoticed.
Why choose RTM?
Cheap, simple and easily accessible
Real-time marketing does not require large financial outlays, and sources of ideas are not difficult to come by. Moreover, it is a tactic that can bring better results than an expensive marketing campaign. All you need is a creative approach and good graphics. Currently, recipients spend most of their time on social media, they are online non-stop. Reaching them requires only, or as much as, breaking through the excess of information and drawing their attention for more than half a second. RTM is high performance at low cost.
Different from the competition
The use of creativity will allow you to create unique content that will undoubtedly stand out from the competition. RTM is not very common in social media. What a pity! There are many advantages to using this tactic. Currently, competition in every industry is increasing, so it is necessary to introduce new solutions.
Increasing audience engagement
Internet users are more likely to interact when the content meets their expectations. After all, Internet users are potential customers. A joke will attract a larger group of fans and will show the company (and thus the team) as people with whom it is worth entering into a relationship. The RTM entry will be of great value, but it will be equally important to respond to any comments and shares.
Always up to date with trends
Following trends says a lot about a company or brand. Can you immediately assess whether it is modern? Is it open to changes? Does it meet customer expectations? This is what RTM is all about – openness to changing tastes, new ideas and adapting to fast content consumption.
In line with the moods of Internet users
Following current events and developing discussions in social media will allow you to learn about consumer moods, their new preferences and what really turns them on. Expectations may change, but a humorous accent will be adopted in many groups. What's more, referring to the direct interests of potential customers will reduce the distance and allow you to establish relationships faster. Getting more people interested is an important KPI when creating RTM listings.
Increasing company or brand exposure
Reactions to current events and their own interpretation is a great way to strengthen brand recognition. The logos of top brands can be found everywhere. Some will be remembered, others will not. However, entries related to emotions, in this case humorous, with a grain of salt, cannot be forgotten. The increase in brand visibility will also allow you to reach potential customers with other content.
Conversion boosting
Undoubtedly, more shares, more reactions to an entry, an increase in reach means a higher conversion. By reaching a larger group of recipients, you generate cold traffic, notice by people who do not know your company, know nothing about your products or services. A potential customer, if interested enough, can quickly become a regular customer recommending the purchase of products or the use of the company's services.
Where to use RTM?
Real-time marketing works best on social media. Social platforms are characterized by the rapid flow of content and the ability to instantly share information with your friends. This generates high reach rates in a very short time. You can choose any platform. Most often it is Facebook, but publications also appear on Twitter or Instagram. If the post is hit, it will also be shared on other platforms. When we take care of the time of publication and reference to top events – the effect will be guaranteed.
How to do it effectively? Where to start?
The first step will be to determine what we want to achieve? What will we use RTM for? What benefits do we want? Indication of target points and motives for action will enable efficient determination of marketing effects and efficiency of activities. The priority may be to increase the number of recipients of posts on social media, increase brand awareness or increase new customers.
It will be necessary to monitor current events, events or festivals, news appearing in the environment, and at the same time evoking great emotions. How to carry it out effectively? How to stay online? It will be necessary to observe discussions on social media platforms, forums or blogs. The biggest events will certainly be loudly commented on, and Internet users will share their emotions before the start. We can streamline the process by using a media monitoring platform, including social media. Direct e-mail and text alerts are effective and save our time.
Technological progress, variety of information, quick contact and automation enabled the use of RTM. By referring to current events, you increase the company's credibility and strengthen its image.
Undoubtedly, IKEA fanpages are a great example of using RTM. Entries referring to current events appear relatively often and perfectly refer to their offer. First of all, wordplay, colors and direct references to news events are used here.
On December 16, The Matrix Resurrections premiered. In one scene, Thomas Anderson, aka Neo (played by Keanu Reeves) has to choose between a red and a blue pill. Each of them meant a different course of events. Shortly after the premiere, a post appeared on the IKEA fanpage referring to their product – tissues, in blue or red. The description undoubtedly refers to the characteristic "rain" of zeros and ones, i.e. a green code on a black background, starting the first scenes in the entire film series.
It is worth paying attention to the publication date – 5 days after the official premiere. Why not on launch day? Timing is the key here. On the day of the premiere, a small group of people would know which scene IKEA is referring to. 5 days is enough time after which you can get large ranges.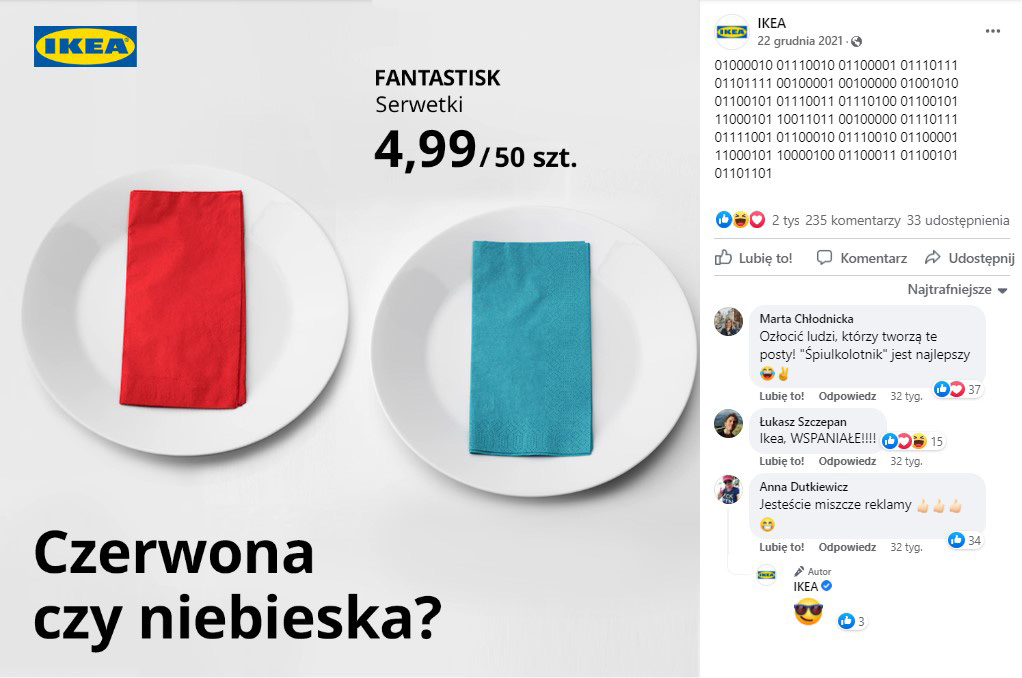 Another interesting example is the reference to the election of the new president of the United States, Joe Biden. Undoubtedly, it was an event that was talked about all over the world. The official swearing-in took place on January 20, 2021. On that day, a post referring to their assortment appeared on the IKEA fanpage, and more specifically the doormats called TRAMPA. The slogan "tramp is missing" was a hit!
On the fanpage, we will also find entries referring to sports events (including the victory of Iga Świątek or the Tokyo Olympics), the new James Bond film, as well as the Oscars ceremony.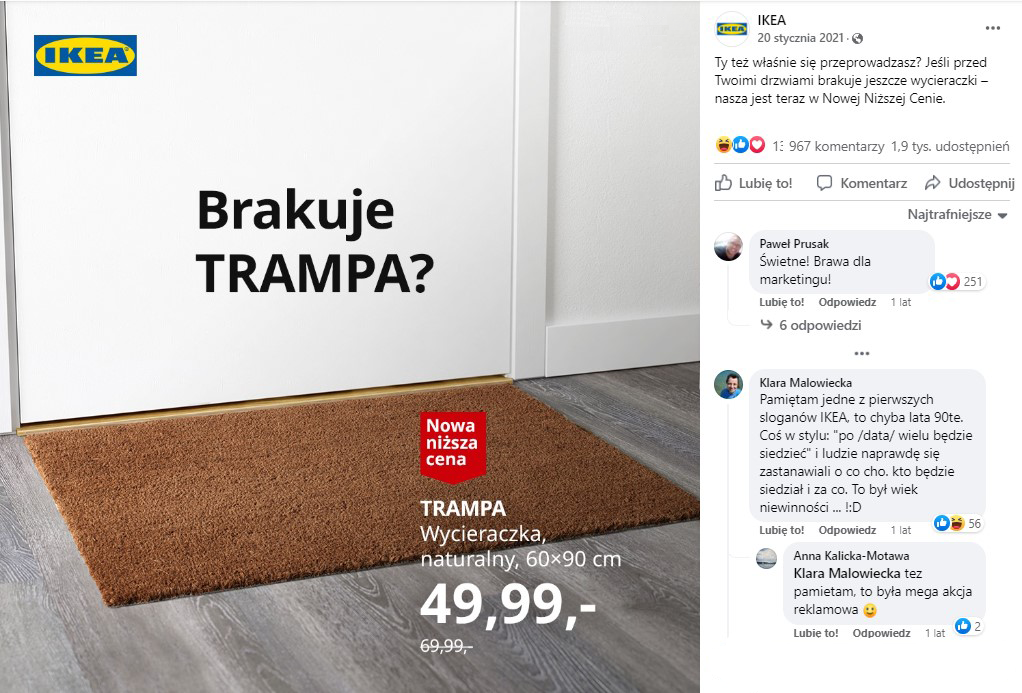 Many football fans remember the match during the 2014 World Cup held in Brazil, when Luis Suarez bit the defender of the opposing team, Italian Giorgio Chellini. It was the third time the Uruguayan had bitten an opponent. On the same day, the Snickers brand published an entry referring to the situation on the pitch. She commented on it according to the advertised product "Next time you're hungry just grab a Snickers". Concise and to the point.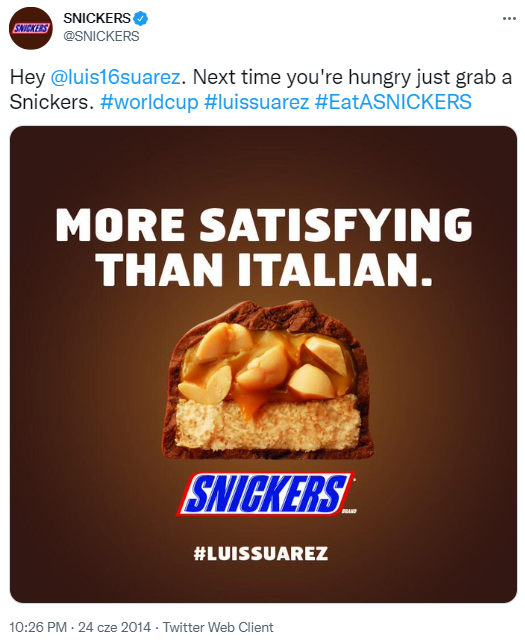 A team failure can also be an opportunity to use real-time marketing tactics. In August 2020, mBank tested the so-called push notifications. Everything would have gone well if not for a mistake and sending a message to all users of the application. The initial stress and dissatisfaction of customers was relieved by a humorous entry of the bank in social media. The brand showed distance, and the crisis turned into a funny anecdote shared by subsequent Internet users.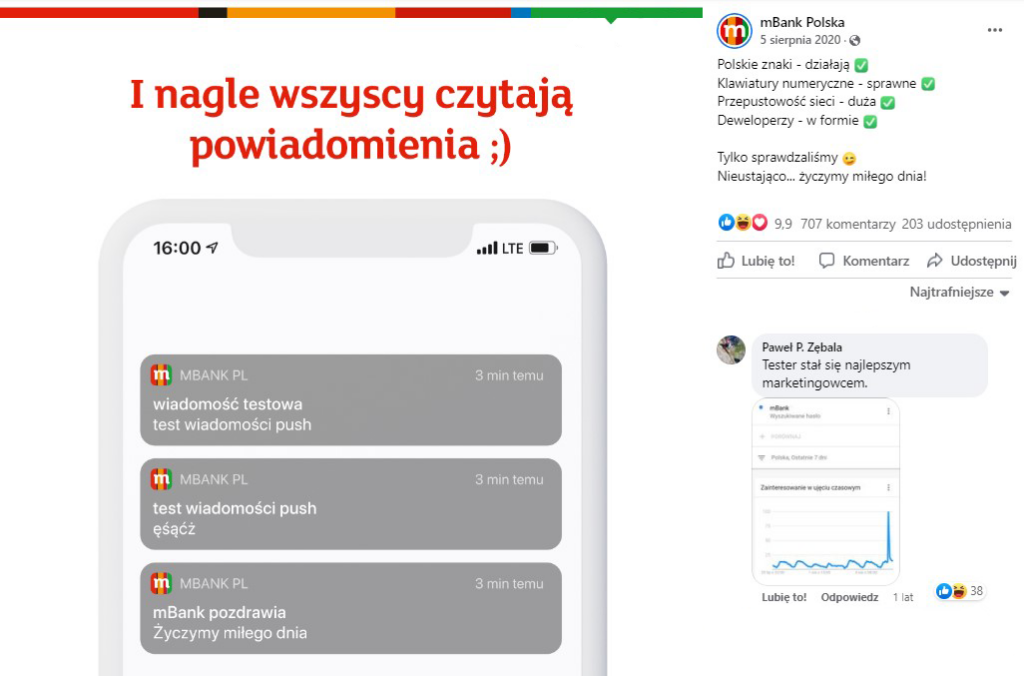 P
When publishing an entry, we are not sure how it will be received by Internet users. However, with well-applied RTM tactics, the effect is sure.
---
---