How to Build Trust and Brand Awareness with the Help of Media Monitoring
Brand awareness is not only a problem for small, local and less known enterprises and organizations. Global companies that lead the way across various social media channels around the world are also struggling to maintain high brand recognition rates. The moment of its fluctuations most often occurs when companies introduce pioneering products to the market, try to reach new target groups, change the company's logo or modify their business models. Brand awareness should be understood as the ability of consumers to recognize it and correctly associate the entity with specific products, services, ideas or categories of solutions.
A strong brand of the 21st century must stand out from the competition. Modern PR activities, communication strategies and initiatives as well as responsible partnerships with influencers and business associates definitely increase brand awareness and ensure its highest level.
Building brand trust
Nowadays, where unfortunately, we are dealing with very bad and unpleasant experiences that have caused uncertainty on virtually every level of our lives in recent months, it is important to remember that brands must be authentic, enhance empathy and arouse sympathy among consumers. Building trust is absolutely crucial in this era.
In the modern business world, customers have a direct approach to company assessment and practices. They often post their critiques on forums, social media platforms, and review sites, where comments are visible to all search engine users. Some brands see reviews that are posted in cyberspace as a obstacle for the success – to a certain extent, they're correct. Negative experiences of recipients do not help in the positive promotion of the company. Only that's not what it's all about. Brands must strive to ensure that the results of their hard work meet the needs of customers. Removing negative comments from the web and leaving only the positive ones is something people just hate. Such a brand will not build trust in the current era of conscious consumers.
Just look at the Trustpilot survey results: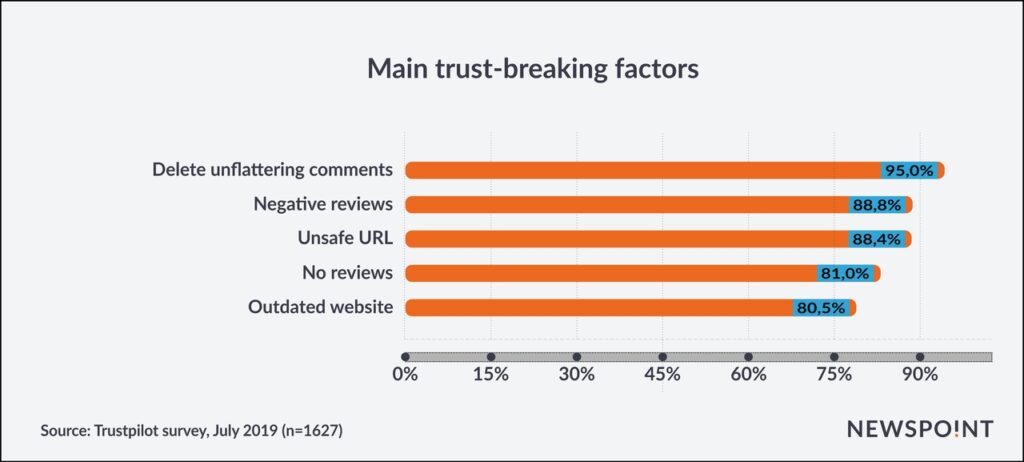 Negative customer reviews are also a huge problem that practically disqualifies the brand. Probably none of us would like to have anything to do with a company where critical reviews and comments are a significant advantage. Brands need to think ahead from the very beginning. Media monitoring tools, such as Newspoint, will not only facilitate the work of marketers and communication experts (which is associated with an increased number of positives reactions), but will also contribute to faster customer service and generation of new sales leads. Now that we know what the main factors cause a decrease in trust in the brand, let's check what helps in building positive experiences and relationships between the service provider and the recipient: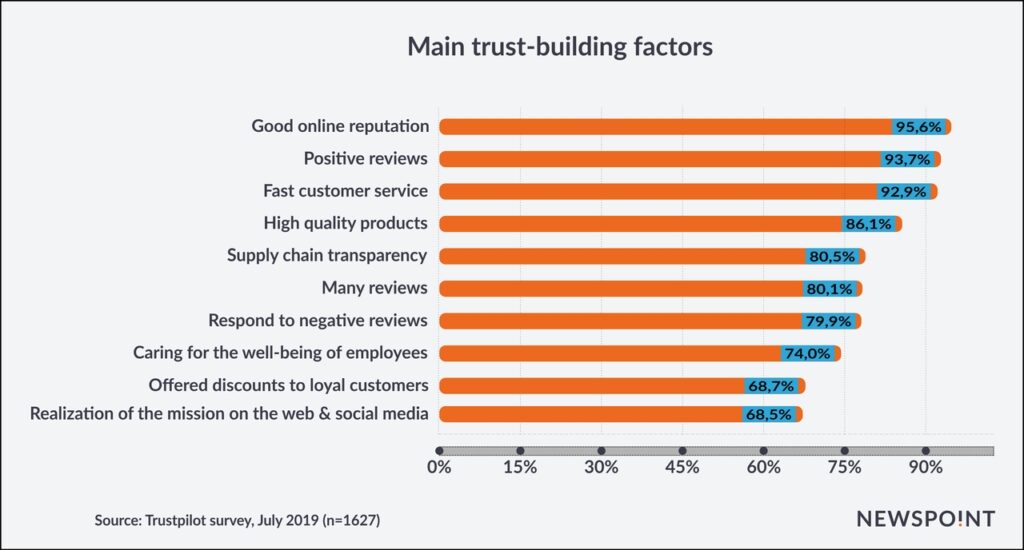 Positive customer feedback is generally qualitative rather than quantitative. They reflect the impression that the consumer felt when contacting the company and using its services. These genuine emotional responses encountered in the online environment can dramatically influence the opinions of other potential customers of your brand. Tracking mentions, comments, opinions, reviews and articles about a given company will allow early detection of a possible crisis – a stitch in time saves nine. The situation is the same in business, especially in the environment of huge competition and fake news that surround us from all sides. You never know who and where can put up some roadblocks on your way. Media monitoring tools ensure the fight against this type of bad practice from the very beginning of the expansion of the crisis.

Over 83% of customers would choose a product with good reviews over a product with no reviews, even if its price was slightly higher.

There are also brands that believe that the process of collecting and analyzing reviews is either completely unnecessary or very expensive. The latter aspect is a problem for companies that do not have enough funds or are just starting their adventure on the market. This approach is also wrong, because according to the Trustpilot survey, opinions about unknown brands are absolutely crucial: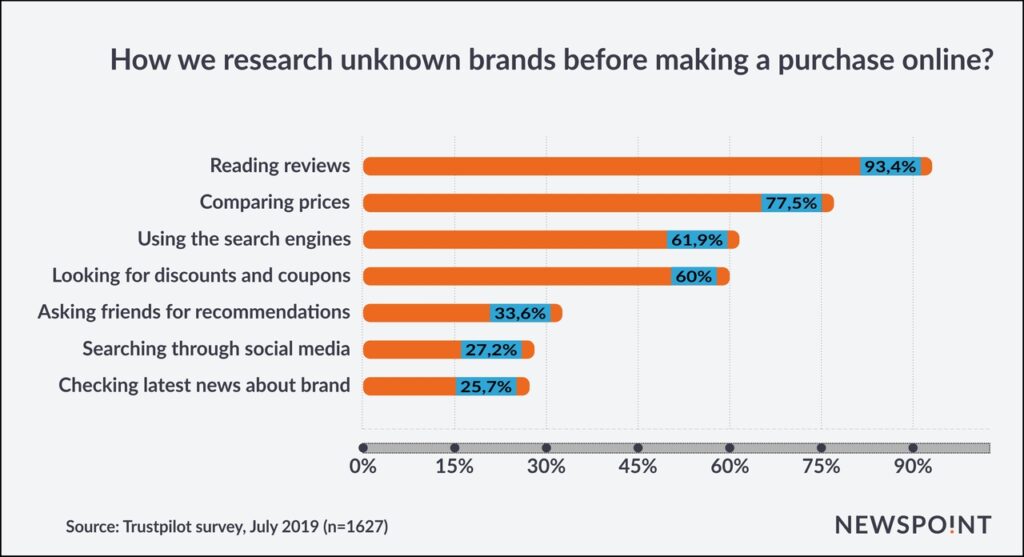 Collecting all the reviews shows that the brand values the people it serves above the profits it makes. It shows that the organization is mature enough to accept compliments and accept fair criticism. The most important thing is to strive for as less negative opinions as possible by listening to customers, their needs and comments. Newspoint offers a wide range of options for monitoring social media channels (social listening). Responsible use of these features will increase brand awareness and help build brand trust.
In today's rapidly changing and extremely competitive market, the lack of personalized data flow will be a huge problem for marketers. In order to find reliable information about consumers, brands need the best analytics capabilities and reliable datasets. Only then will companies be able to deliver a strong commitment, a sense of empathy and excellent customer service.
Opinions about a given online store are for almost half of the buyers (regardless of gender) its most important source of credibility when making their first purchase there. People with a relatively short experience in online shopping are less likely to mention positive previous experiences, transparency and functionality of the website. They more often point to opinions on social media platforms and the attractive appearance of the online store. Users prefer to trust the experience of others than trust fate and buy things sight unseen from a random seller. Every marketer should strive to obtain positive and credible opinions about the brand they work for.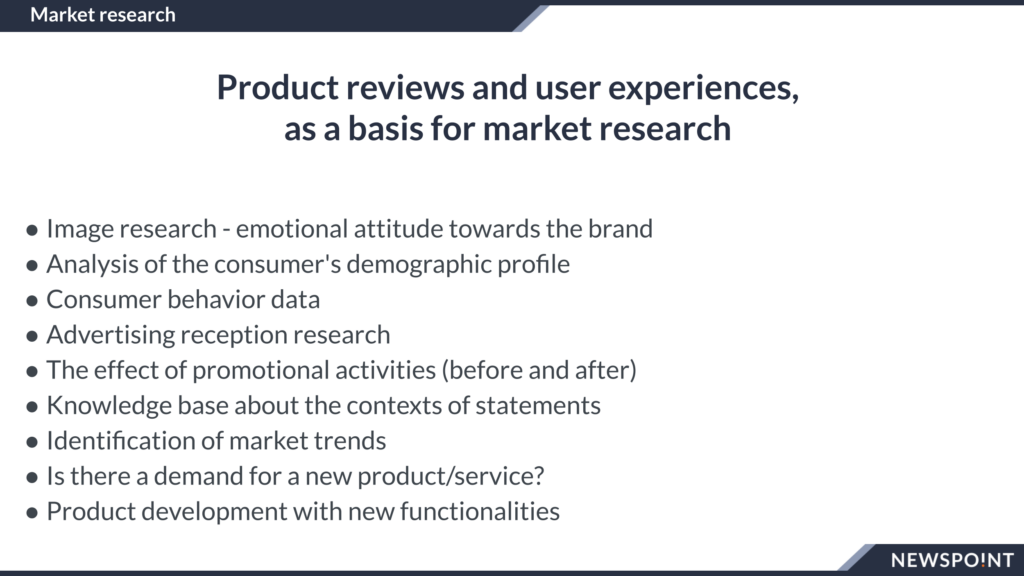 Media monitoring and content marketing
Social media monitoring can help marketers and PR professionals increase brand awareness in several ways. One of them is content marketing. Creating the highest quality content based on key trends and real consumer needs is always desirable. It is virtually impossible to keep track of everything that happens in cyberspace without the help of media monitoring tools based on machine learning and systems for deep analysis of results obtained from big data collections. Simply, this information is too much to process and draw any real conclusions using only human hands. It is also important to remember that such a huge amount of data cannot be fully relied upon without human supervision. Any information obtained from cyberspace should be verified by people so that it is reliable and consistent with the facts.
Content Marketing Institute has published information showing that the popularity of content marketing has increased, and its main goal is still to create brand awareness, which is declared by 80% of marketers. 75% of communication specialists who participated in the survey say it builds credibility and trust.

Consumers expect their needs to be met, so the way to influence their purchasing decisions is to build trust and strive for maximum personalization. Content marketing increases brand exposure in many ways. The company becomes known in its market niche and then meticulously builds trust by educating or positively surprising its target group.
With a great strategy based on current expectations and needs, you can also power your website, email marketing, social media platforms and SEO. Keep in mind that high-quality and personalized content can span many different formats, from blog posts to honest articles, videos, webcasts, infographics, data visualizations, reports, and more.
Modern media monitoring tools give you the opportunity to gain wider reach, manage profiles on social platforms responsibly, view consumer information in real time and optimize engagement at every stage of the customer journey in cyberspace. Such processes result in a positive customer experience and increased brand loyalty.
Content marketing is one of the best ways to increase brand awareness as it shows your brand's ability to listen, innovate and follow still changing trends.
Brand awareness
Brand awareness is not only about reaching a wider audience. It's also about targeting the most relevant people with the highest chance of conversion. By understanding who your potential recipients are and directing personalized content to them, companies will also gain the trust of consumers, which will affect the willingness to use their services or buy products of a given brand.
From the marketer's point of view, brand trust means aligning business activities, experiences, products and services with the values it promotes. If your company claims to be environmentally friendly but, for example, only uses non-recyclable packaging, customers will notice this discrepancy. In the current era of consumer awareness, you need to listen to your customers and be more of a partner for them than just a service provider.

The perception of brand trust will vary across demographics and local markets. Make sure you have all the necessary and specific data before deploying the product. You need to know what the condition of your brand on the market looks like and what is its current image situation. Make sure that the experiences you offer are tailored to the expectations of your target audience. Research and thoroughly analyze customer requirements and determine exactly how you can meet them.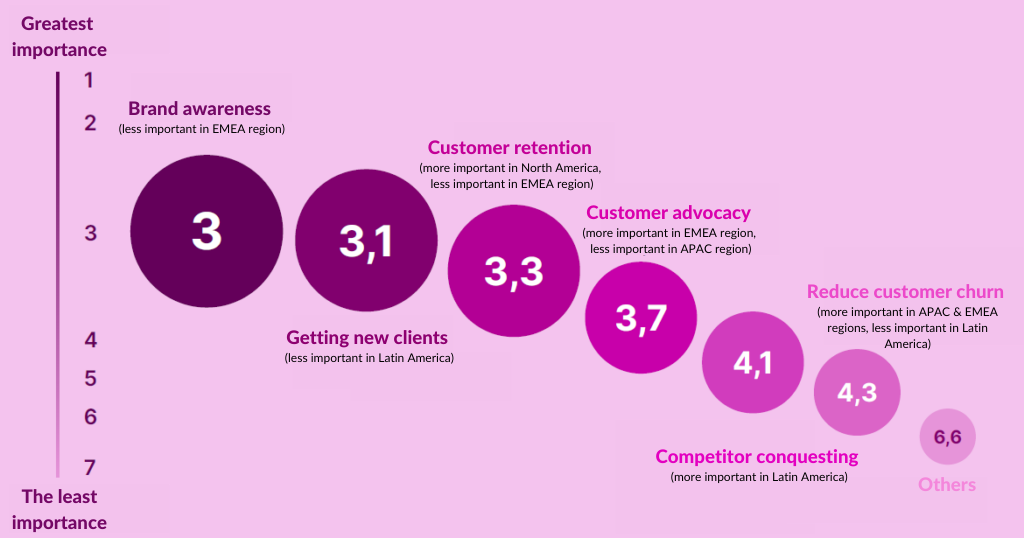 If you're launching a new product, create a brand activation or campaign to build awareness around the product. Activate your brand through experiences or engagement that will make people remember who you are and what your company values stand for. This process will help strengthen customer interactions that are designed to increase loyalty to the company. Brand activation also helps your audience establish an emotional and real connection with your brand.
Even if you understand the importance of brand awareness, you should know how to measure it. Fortunately, there are many tools that help you track metrics and analyze essential marketing data. Below are some brand awareness metrics. They will help you understand the effectiveness of branding with your target audience:
Media coverage and number of mentions – how many mentions do you have about your brand and what is their sentiment? You can track them all with media monitoring tools like Newspoint. These types of analytics panels help you monitor and respond to what is being said about your brand across a wide range of media, newspapers and TV.
Brand Search Volume – use this KPI to find out how many people know about your brand in each city, state, or region of the world you want to target your business promotion.
Share of Voice – what percentage of reach and conversations on the Internet relates to your brand compared to the competition?
Sharing on social channels – regularly sharing positive content means you have a high and well growing brand awareness.
Website traffic – high web traffic shows that you are an important resource for your target group.
Reach – how many unique viewers see your content that you create in cyberspace.
Engagement – do you see more people engaging with your work on social media? Measure likes, read comments, answer questions, pay attention to social media shares and activities. If necessary, you can also measure the amount of user-generated content (UGC).
With the media monitoring service, you can follow important topics related to your brand, industry and competition. By following specific keywords (using artificial intelligence functions), you get the latest and most important information about what is being talked about in the media. These types of tools are essential solutions for news tracking, social media monitoring, as well as reporting and analysis of results. All of this wrapped up together is key to building brand awareness and consumer trust.
7 steps to building brand reputation
Finally, we want to present you a quick recipe for building a brand reputation. 7 simple steps that every experienced and self-respecting communication and PR specialist should always keep in mind. The list was presented by Robert Sadowski – Digital Marketing Manager of Newspoint – during a webinar on opinion monitoring. Here they are:
Bet on total transparency of all activities. Do not combine, do not cheat, do not buy reviews or manipulate information about your brand, because removing reviews can reduce customer confidence by up to 95%.
Ask unobtrusively for product reviews and ratings. The lack of regular reviews is much worse than an imperfect rating ranking. Customers want to see reviews to trust a brand, even if bad reviews are mixed with good ones. Only 9.3% of people trust a company with no reviews and almost 60% trust a company with only one review.
Use media monitoring. Actively monitor the brand and products. Answer questions and participate in the discussion. Use the collected opinions to improve the quality of customer service and introduce changes to the offer or product.
Stay open to criticism. Criticism can happen. Respond quickly to negative feedback and try to explain everything thoroughly. Learn from your mistakes. Use such entries and draw conclusions. However, never delete unflattering comments.
Take part in various social activities. Bet on CSR, pro-ecological initiatives, support those in need, cooperate with scientific institutions or local governments.
Release consistent media messages. Both in official press releases and in written articles or published posts in social media.
Go for employer branding – build the image of an attractive employer. It is important not only what is happening around the brand online or offline, but also what former and current employees think and say about the brand and how they are treated. 75% of people actively looking for a job declare that they search for information about the company's image as an employer before responding to an offer.
---
---