Newspoint Features That You Might Not Know
Sometimes we use the same product almost every day, but we are not fully aware of all its possibilities. They can often increase the comfort of our work or save a lot of precious time. That's why we present today some new, less known, or non-obvious features of Newspoint platform that you may find useful or just worth knowing about.
Tags
This is one of those functions that may go unnoticed. Tags allow to categorize (sorting) publications easy. So, for example, you can mark the most important mentions, publications that we want to refer to in our communication, or tag posts that should be seen by a particular person.
Tags have their own options – we can "pin" (similarly to Facebook the publication will appear at the top) the content that cannot be omitted – importantly, "pinned" documents will be at the top of doc / pdf reports that you can download, not only on the platform. The most important content will always be at the top, so you can see it immediately.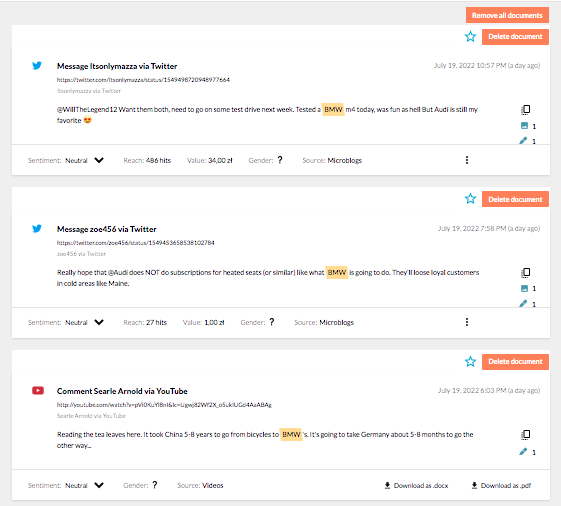 You can set tags by clicking on the drop-down menu in the top left corner.
In the "statistics" feature, we can also generate reports from these specific documents that have been tagged. So, for example, if we have tagged our own press releases, it will make it easier for us to create an annual report.
Alerts – Keep Up With The Mentions That Matter Most. Platform Will Send Them Directly To Your Email.
They are always important when we want to keep our finger on the pulse. There are moments when so much is written about the brand or product (for which we are responsible) that it is not physically possible to review all the mentions. In a situation like this, it is worth choosing key sources or contexts that are crucial for us (e.g. the most critical sources, such as the EEC-Net) and receive separate email notifications about them to stay up.
It is worth paying attention to the additional possibilities offered by the alert settings – we can adjust the template, add a logo and choose the colors so that can match the company's color palette.

The "Alerts" tab is in the drop-down menu in the top right corner.
Fast Search Engine
Let say that you set a profile, but you are more interested in a narrower context, for example: how often was your employee's statement cited and shared? Now you don't have to set up a new account, but you can quickly use the search in a specific project – the search results are not persistent, thus allowing you to check multiple contexts one by one.
The quick search engine makes it possible to easily view the content and select the first contexts of the discussion.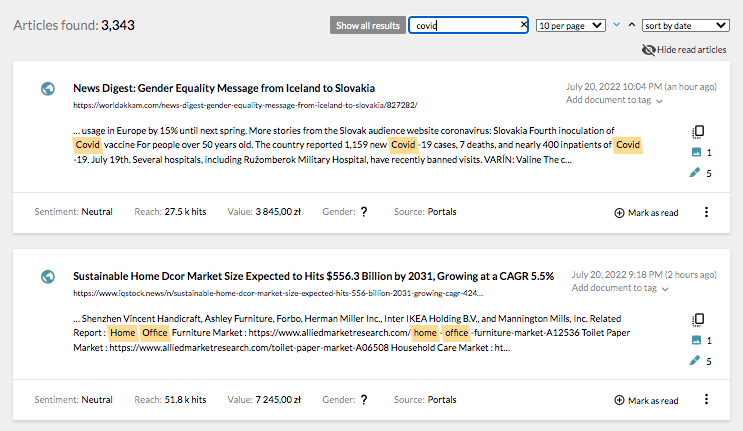 To find quick search engine go to the "Publications" tab in the project view.
Competition
You often need a quick, quantitative comparison of the mentions – nothing easier.
In the panel, it is possible to permanently record and compare the number of mentions, their distribution over time, share of voice (SOV) and gender of their authors.
Once set, the "Competition" will always be visible in the project – until the settings are changed. The "Competition" doesn't have to be just the competitive brands to yours. These can be the names of your products, influencers, journalists, celebrities, press titles, program names, etc …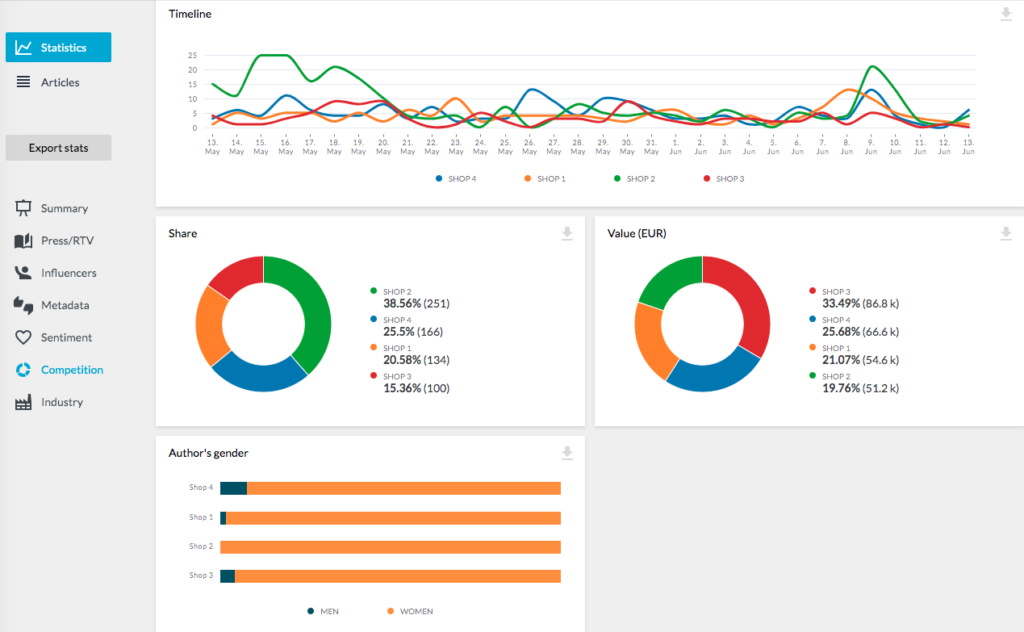 The "Competition" module can be found in the "Statistics" tab in the project view.
Clickable Charts
You see a big spike in the number of articles on a specific day, and wondering what is it being caused by?
Hover over the selected date on the chart and left-click. You will be transferred to the list of publications from the selected period of time. You can filter them by the estimated reach or AVE, in order to select the most valuable ones.
It is also possible to click on the button "TOP" pages or "TOP" authors – the panel will take us to publications from a specific page or author that meet the given search criteria.

Clickable charts you can find in "Statistics" tab in the project view.
Folders
Do you have a very complex account in the Newspoint panel with many projects? Some profiles are used by selected people but would you like to divide them into brands, languages or in any other way?
The Newspoint platform offers feature that will allow you to create dedicated folders and make it really easy to find them when you need it.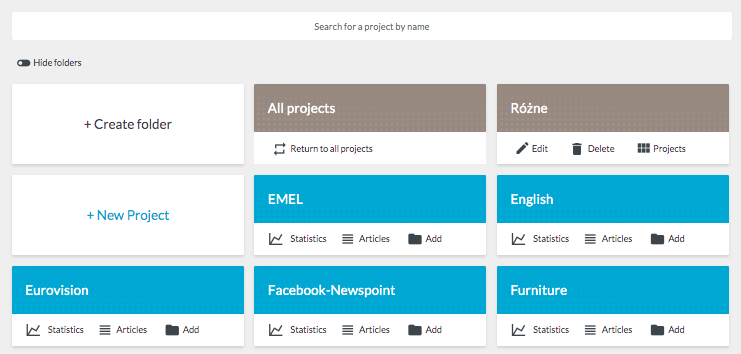 This is a brief overview of a few selected and very useful features of our media monitoring tool. If you have additional questions – please contact us – kontakt@newspoint.pl. We will be happy to help and listen to all your comments.
---
---