Why should you use the competition modules in the Newspoint Panel?
The Newspoint panel offers access to two interesting modules – Competition and Industry. Why is it worth using them? Above all, they give you the opportunity to see how your competitors are doing and how your company or brand is doing compared to them. These are important tools to help you plan your activities, identify gaps in the industry or new customer needs. In short, close monitoring of the competition and the industry can be the key to success, and Newspoint offers useful tools to do so.
How to investigate the competition in Newspoint?
We offer you two modules to help you do this. The first is the Competition module. You can find it in the left bar or at the bottom of the window. To benefit from this, you need to create a project for your competition in advance and then define the competition with the right keywords by adding this theme to the appropriate place on the panel. Newspoint shows you the stats of your company and your competitors in joint charts – so you can see how both brands present themselves in the media, who was talked about more often at a certain point in time, who was presented more often in the "more paid" media (advertising equivalent).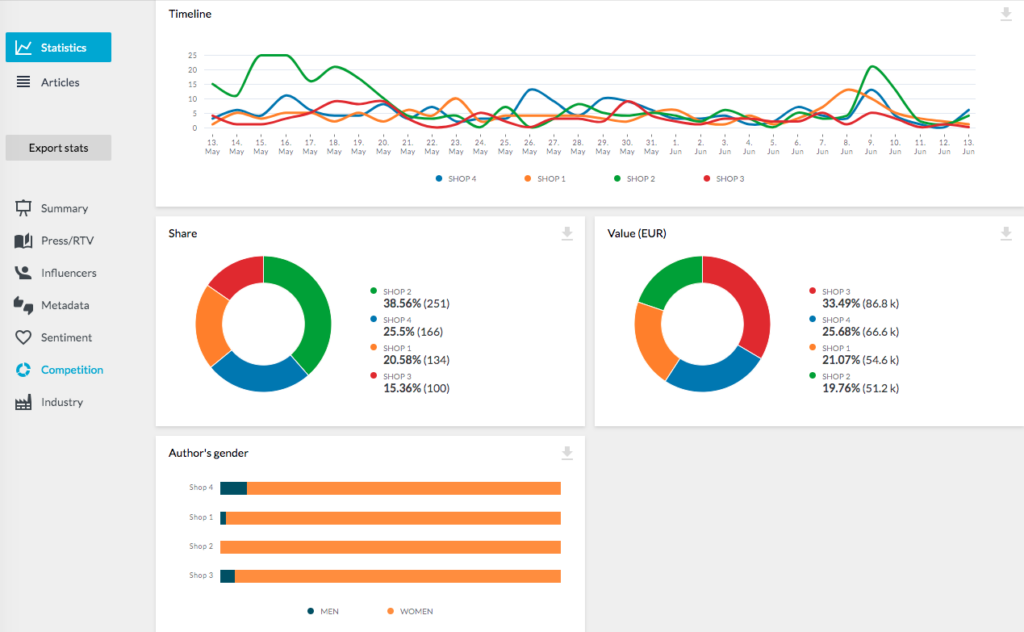 You can learn more detailed statistics about your competitors through a special design – in this module you will see only the most important graphics showing the general trend. In one diagram you can compare up to 8 competing companies. You can save the chart for a summary report or presentation.
The second option is the Industry module – it works on a similar principle to the competition module, it's just more extensive. This allows you to see how a company and its competitors are performing compared to the industry as a whole. For example, if you work in insurance, you can add your company and direct competitors and see how they perform compared to other insurance companies. In summary, you can see how many insurance notices your brand names contain and how many of your competitors.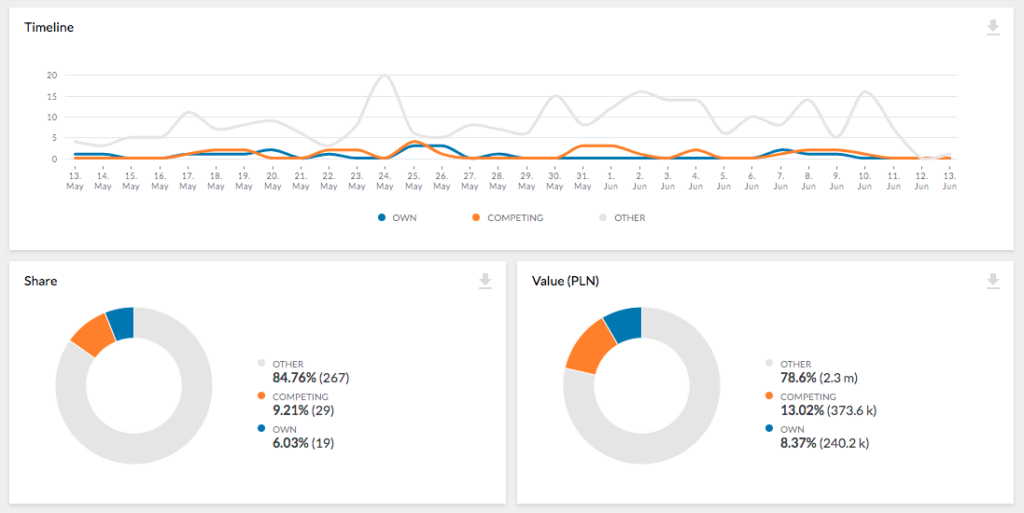 "Competitors" are also our products and specific product models
We have specified the basic application of these 2 modules in the Newspoint panel. However, they can also be used to investigate statistics that relate only to your company. If your company has different brands, projects or campaigns, you can compare them in the Competition or Industry modules. This way you can see which campaign or brand is being talked about more and which ones you might want to market more in the media. You can also compare your different products and product models to see which one is more media effective and which one is more written about. You can use the Competition module as a comparison page for your own projects. Not only your company, but also many other companies in the industry.
It's worth keeping up to date with what's happening with your competitors and how your company presents itself compared to the industry as a whole. This allows you to prepare and adapt a better, more targeted marketing strategy. If you are already using the Newspoint panel, you should test both modules – this could be your key to success. If you have not yet tested our Media Monitoring Tool, you should definitely use a one-week trial version.
---
---